1. Create your Menu Item's Library
We created the only Daily Specials Faxing/Email System that allows YOU to create your own library of items, then create indivdual menus for every day of the week. Adding items is as simple as typing an email. Create a "Title" for your food item, then add a description. We format all the text automatically.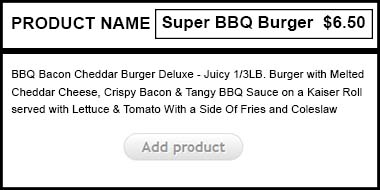 Once your menu items are added to your library, "Select your day" and create your menu. You can create menus the same day, day before, week before...even a month before you want to display your menus. Modify your menus at any time!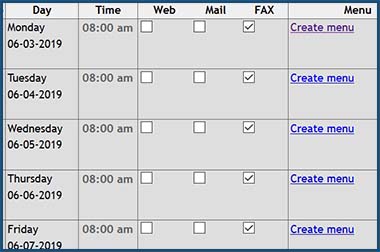 Simply "ADD" your item to the list for the day.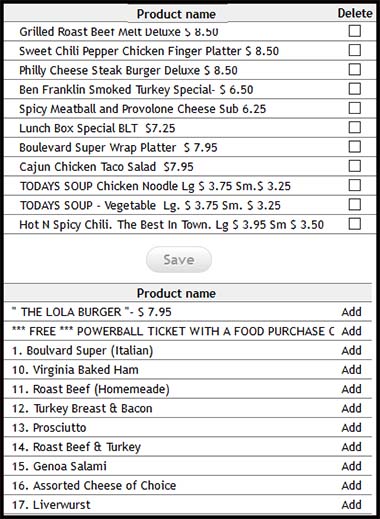 Once your menus are ready for display, you are finished. Our Automated system sends your Faxes and Emails at a time you decide, everyday. You don't need to do anything. You do not need a fax machine to send your faxes, we do it for you!
We design a template to display your Daily Specials. We like to keep your fax page as clean and simple as possible. Businesses are receiving many faxes daily. They will appreciate you sending them the information they need and not wasting their ink on "jibberish". Together, we will customize the template to promote ongoing specials, store hours, and other detials about your store and services. When your Fax is generated by our system, your Menu is automatically included in the fax.
3. Gather your Local Businesses Fax Numbers
Legal Disclaimer: Sending unsolicited Faxes is a Federal Offense, read this.

People try and justify their desire to send their fax to any business from which they may have obtained their fax number, but, you simply cannot do it without risking a substancial fine. Some faxing service companies will tell you "We have a list of fax numbers from local businesses". They may have such a list, anyone can, buy a list of fax numbers. But, as you may have read on the FCC site, if you have not asked permission to send them your Daily Special Fax, it is not legal. You cannot send your fax to a person/business that may have given permission to receive a fax from another food establishment.

There are 2 legal ways to gather Fax numbers:
1. You can visit your local businesses and ask their permission to send them your Daily Specials. While this may not seem like a cost effective method to gather your Fax number list, it is actually the best method. Take an hour each day and drop into all the businesse and professional office in your area. You will find the people to be very receptive. While you are there, drop off your menus, offer them a one time discount for their next visit to your establishment. In some cases, you may find it productive to offer the staff some free pizza or bagels "and". Giving away your food is the best advertising you can do for your business.

2. We can gather Fax Numbers (small, one time fee) of local businesses and professionals in your area. We can have our staff call local businesses in your are and ask their permission to send them your Daily Specials. We can purchase a list of businesses in your area, or search the web for local businesses in your area, that have Fax Numbers, then our caller contacts each business on the list and asks their permission to send your Fax.

And of course, whichever method you use, we strongly recommend asking your existing customers if they want to join your list when they come into your shop.

4. Commonly Asked Questions

Do I need a Fax machine to do this?
You DO NOT need any faxing machines to use our services. We send all Emails/Faxes from our servers!

Do I need to offer delivery or online ordering, to promote my Lunch Specials?
Promoting your Lunch Specials by Fax and email has nothing to do with delivery or online ordering. While we will include delivery and online ordering info in your Fax/Email promotions, if your don't offer these services, your customers will simply order and pick up their orders as they do now. Your Daily Special's promotions get your message out to your customers so they know what you are cooking everyday!

Simple Pricing
Send 5 Email/Faxes to your Business Customers Weekly - 50 customers - $50 mo.
$1 per customer - monthly.

(If you already have a website, we will provide a FREE Daily Specials Display Page that your web person can link on your website.)

Daily Specials Faxing Service
Call or write anytime and we will
be happy to answer your questions
Call: 973-934-0577 Email
Fax: 855-251-2312
Copyright 2018 i'm hungry now. All rights reserved.